Venue :
Esplanade Hotel Fremantle by Rydges
Date :
23-08-2014
Time :
06:00 PM
The Glass Slipper Teen's Ball was held on 23rd August.
Here are some of the photos from the night.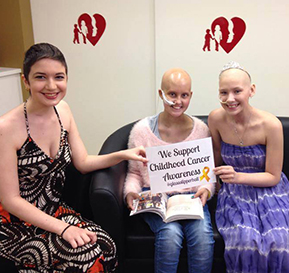 Inspired by these 3 amazing girls, Oceane, Chloe and Caitlin and proudly supporting the Children's Leukaemia & Cancer Research Foundation Inc.
Why the Glass Slipper Ball?
"As you would all have guessed, the 'Glass Slipper Ball' is a take out from the Cinderella story. As an adult looking back at the story of Cinderella, I believe the main message is that one should never give up and fight evil through hard work and by having a good heart. As in the case of Cinderella, she looks forward and dreams of the possibilities of a better life and maintains an optimistic attitude while holding onto hope.
This message can be applied to the hundreds and thousands of children around the world that are not giving up and fighting the evil 'cancer'. It is important that they, along with their families, friends and loved ones remain optimistic and fight together for the ultimate dream – to find a cure and kick cancer's butt!!! Because of this I thought the 'Glass Slipper Ball' was a fitting theme for children with cancer." – Kasey Carr – Event Organiser
Hosted by 92.9's Heidi, Will & Woody
This year's Glass Slipper Teen Ball was hosted by the breakfast crew from 92.9 – Heidi, Will & Woody.
Heidi met Chloe and Caitlin in PMH and they inspired her in ways she never thought possible. Chloe Clements was diagnosed with a brain cancer called medullablastoma and Caitlin Garrett with Ewing's Sarcoma.
"I cannot, and never will be able to, comprehend what they've been through nor will most of you. These little ladies, only 14 and 15, are the most bubbly, outgoing, funny teenagers who should not be battling what they are at their age." – read more of the news article…
How did this event come about?
"I decided to organise the Glass Slipper Ball after I learned that the daughter of a family friend (Chloe) was diagnosed with Medulloblastoma – 'Brain Cancer'. At just 13 years of age, her and her family's world came crashing down. She should have been out with her friends, getting her first boyfriend & enjoying life! Instead, she has spent most of the last 6+ months in hospital having numerous operations, radiation treatment & now is undergoing chemotherapy.
Even through all of this, she still manages a smile on her face and a positive attitude. Chloe is an absolute inspiration and is the reason I am organising the Glass Slipper Ball." – Kasey Carr – Event Organiser
Venue :
Esplanade Hotel Fremantle by Rydges
Date :
23-08-2014
Time :
06:00 PM