Venue :
Gloucester Park
Date :
09-11-2019
Time :
04:30 PM
The biggest family event of the year – CLCRF's Family Night Out featuring the Perth Symphony Orchestra!
Sweet sounds take centre stage at the Children's Leukaemia & Cancer Research Foundation's Family Night Out at Gloucester Park on Saturday, November 9.

This year the event features the exceptional Perth Symphony Orchestra (PSO), performing their family favourites.
Kids get free entry while adult tickets are $45. Proceeds from Family Night Out support the outstanding work of the CLCRF, which raises funds for research into childhood cancers. Early bird tickets are on sale now until 14 September – so grab yours now!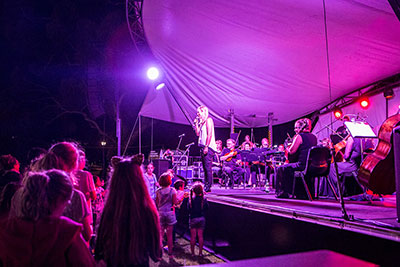 As well as hearing the world-class PSO perform, families can revel in the festive spirit while supporting a worthwhile cause. They can bring their own picnic (no BYO alcohol) or enjoy a meal from a variety of food trucks on site.
Fun children's activities include face painting, bubbles, cuddly animal farm, bouncy castles and more!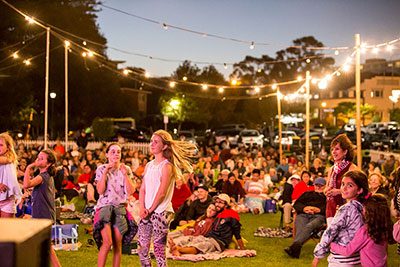 The PSO's song list includes all-time favourites from shows Frozen, The Lion King and The Greatest Showman and songs originally performed by Katy Perry, David Bowie and Taylor Swift. The supporting act is popular local musician JAX.
Cancer is the leading cause of death from disease in Australian children. One in 500 kids will develop cancer before they reach their 15th birthday. As CLCRF receives no government funding, it relies on community support – especially the money it can raise at events such as the Family Night Out.
Gates open at 4.30pm, with the musical acts starting at 5.30pm.

Have a promo code and need help finding where to enter it? Read our How To Guide to step you through it!
Venue Map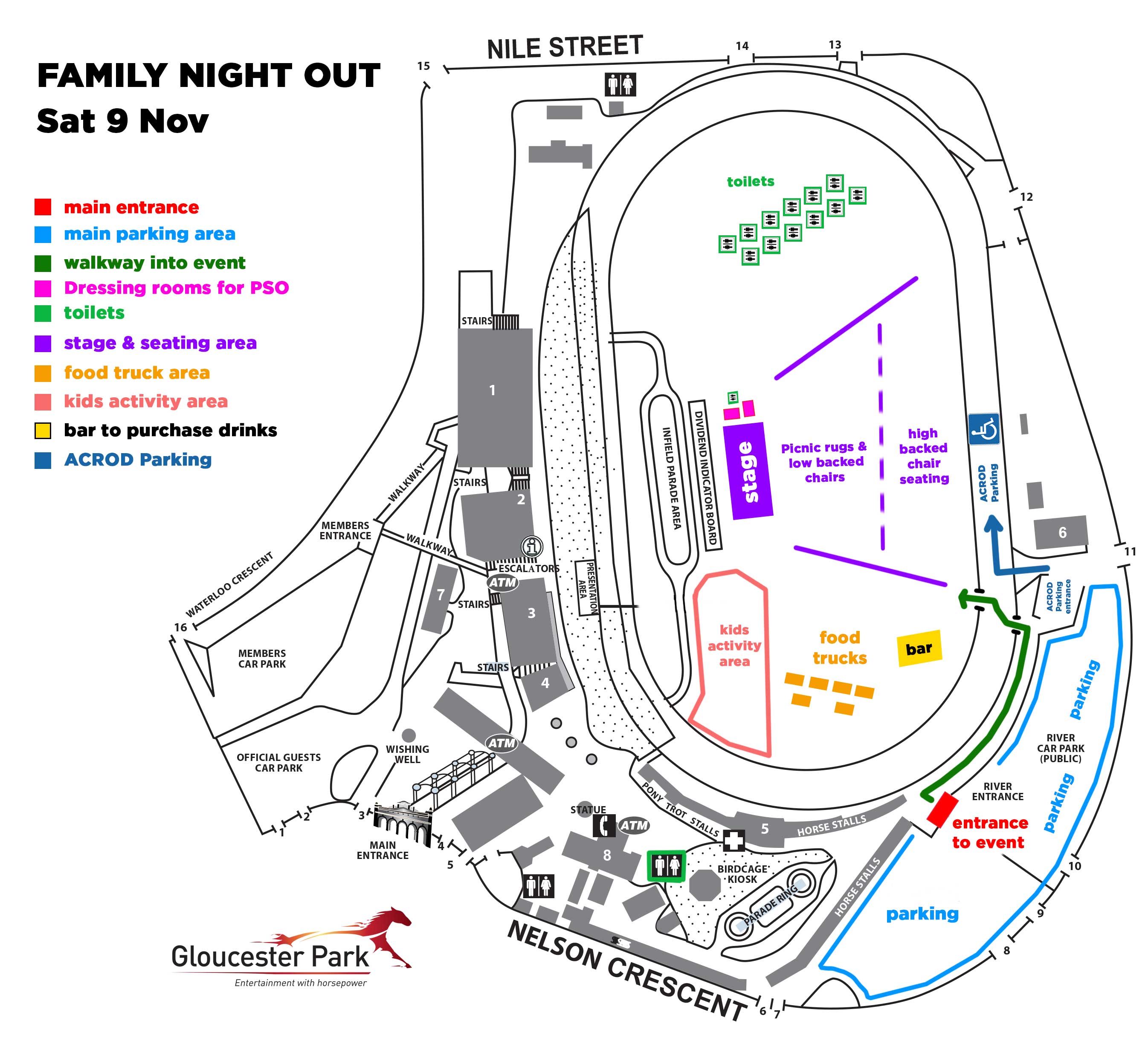 Terms & Conditions of Entry
This is a NON Smoking event.
NO BYO ALCOHOL PERMITTED as Gloucester Park is a licensed venue.
Any item deemed by the organisers to be dangerous will be excluded from entry.
Any patron deemed by the organisers to be displaying unsuitable behaviour will be removed from the venue.
Children 15 and under are free but must be accompanied with 1 adult for every 2 children.
Every person – Adult or Child must have a ticket to enter – so book now and let us know how many children you are bringing with you.
Patrons under 18 years will not be permitted in licenced areas serving alcohol.
Whilst every endeavour is made to ensure the event is held in a safe environment you enter the event at your own risk and undertake to notify event organisers of any hazardous or unsafe situation you see at the venue, while in attendance.
WE PLAY RAIN OR SHINE – If it looks like raining please bring wet weather gear (raincoats, ponchos or similar) – no umbrellas are allowed.
Tickets are non-refundable.
NO GLASS OR METAL OBJECTS.
Seating allocated on the grassed area is in priority of seated on blanket/rugs then low chairs then high chairs at the back.
Please assist by observing the signage & following the volunteers instructions.
Last drinks at 9.00pm, Gates close 9:30pm – due to licensing conditions the bar must be closed at 9.00pm.
Any event enquiries please phone our office during business hours on 9363 7400
Venue :
Gloucester Park
Date :
09-11-2019
Time :
04:30 PM